InfluencerSoft Review: ⚠️ Is Influencer Soft Worth Buying?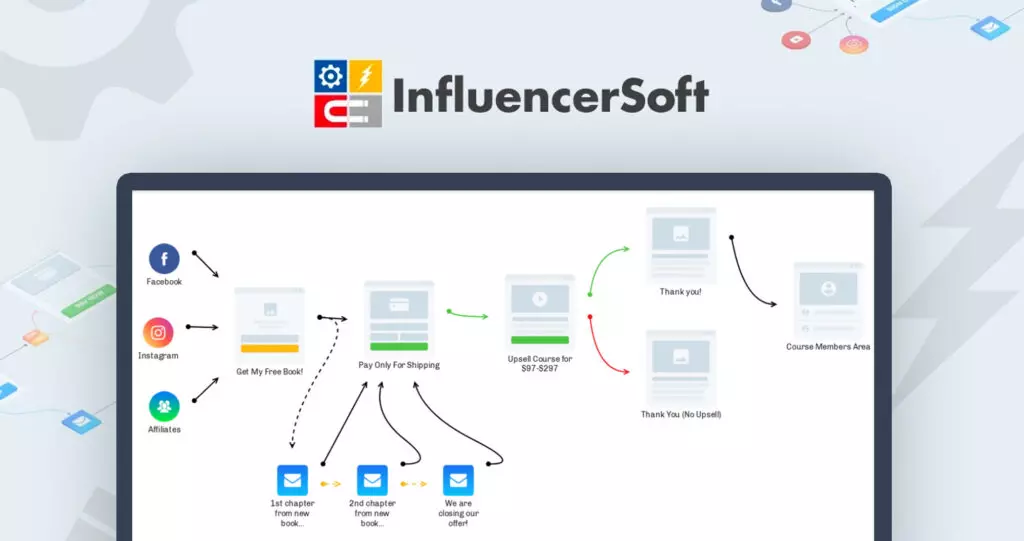 InfluencerSoft Review: The All-in-One Funnel Building Solution
Introduction:
In today's competitive business landscape, effective marketing and sales funnels are crucial for success. InfluencerSoft emerges as a comprehensive tool that empowers business owners and influencers to create and optimize their marketing campaigns. With a wide range of features and benefits, InfluencerSoft simplifies the process of building sales funnels and monitoring their performance.
What is InfluencerSoft?
InfluencerSoft is a robust platform designed to meet the needs of marketers and influencers seeking to enhance their marketing strategies. It provides a suite of tools that enable users to create visually appealing and high-converting sales funnels. By leveraging InfluencerSoft's capabilities, businesses can effectively track and optimize each step of their funnels, leading to increased conversions and revenue.

What's Inside InfluencerSoft?
InfluencerSoft offers a plethora of powerful features that make it a must-have tool for marketers and influencers. Here are some key highlights: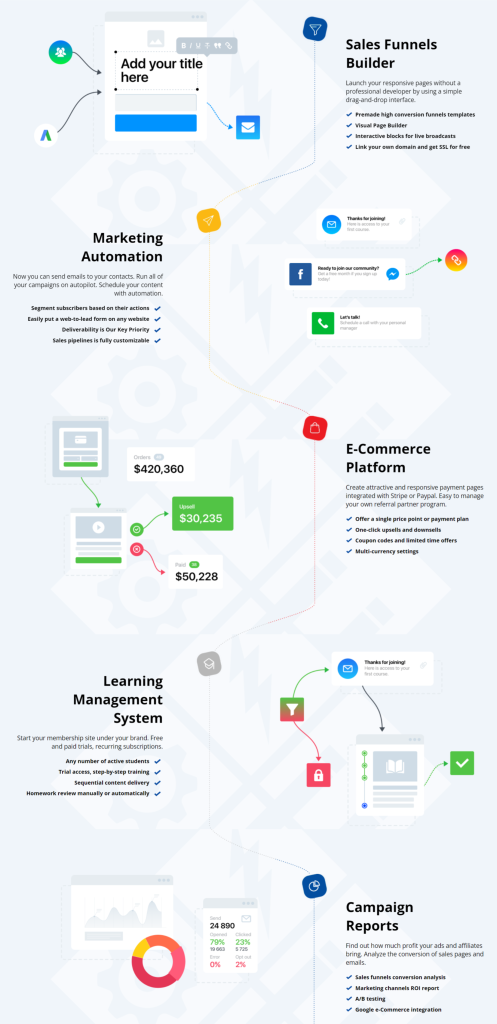 1. Visual Sales Funnel Builder: With a user-friendly drag-and-drop builder and a wide selection of conversion-proven templates, creating custom sales funnels becomes a breeze.
2. Marketing Automation: Automate your marketing efforts with ease. Set up email sequences, manage subscribers, and effectively nurture leads to maximize conversions.
3. E-Commerce Platform: Integrate with payment gateways like Stripe and PayU Latam, and effortlessly sell your products and services online. Track your campaign performance and calculate profits accurately.
4. Learning Management: Take advantage of the learning management system (LMS) to create and deliver courses and memberships. Customize your branding and design to provide a seamless learning experience.
5. Website Builder: Build professional websites and sales pages using the intuitive drag-and-drop page editor. Enjoy secure hosting and unlimited pages without the hassle of additional hosting fees.
How Does InfluencerSoft Work?
InfluencerSoft simplifies the process of setting up marketing funnels and automating campaigns. Users can easily create customized funnels using the visual builder or leverage pre-designed templates for faster deployment. By seamlessly integrating with various platforms and payment gateways, InfluencerSoft enables businesses to drive traffic, capture leads, and convert prospects into paying customers. The platform's automation capabilities ensure that marketing processes continue to run smoothly, even when you're not actively monitoring them.https://www.linkedin.com/embeds/publishingEmbed.html?articleId=7452442689820843612&li_theme=light
InfluencerSoft Pricing:
InfluencerSoft offers three-lifetime subscription plans to cater to different needs:
1. InfluencerSoft Starter – Lifetime Subscription: Ideal for beginners, it includes essential features such as three funnels, a drag-and-drop page builder, and visual funnel analytics. Available for a one-time payment of $49 (originally $499).
2. InfluencerSoft Professional – Lifetime Subscription: Designed for advanced users, this plan offers additional features such as five funnels, email marketing templates, and team member access. Available for a one-time payment of $349 (originally $799).
3. InfluencerSoft Influencer – Lifetime Subscription: The most comprehensive plan with unlimited funnels, live chat support, and advanced features for extensive marketing needs. Available for a one-time payment of $499 (originally $1,200).
Pros & Cons of InfluencerSoft:
Pros:
– Intuitive and user-friendly interface
– Wide selection of conversion-proven templates
– Powerful automation capabilities
– Seamless integration with payment gateways
– Learning management system for creating courses
– Robust analytics for tracking performance
– Secure hosting and unlimited pages
Cons:
– Limited time for redeeming the purchased plan (within 60 days)
– Additional fees may apply for professional setup and data transfer
Frequently Asked Questions:
1. How can I activate my InfluencerSoft subscription?
After purchasing, you will receive a unique activation link via email. Simply follow the instructions provided to activate your deal.
2. What if I'm not satisfied with InfluencerSoft?
InfluencerSoft offers a hassle-free 30-day Credit Back Guarantee. If you're not completely satisfied, contact their support team, and they will process your refund promptly.
3. Can I use my own domain name with InfluencerSoft?
Absolutely! InfluencerSoft allows you to easily set up your domain names within the system. You can add multiple domains and build websites and funnels without incurring high monthly hosting fees.
4. Is my data and system secure with InfluencerSoft?
Yes, InfluencerSoft prioritizes security and follows GDPR data privacy laws. The platform is built to ensure the security of your websites, emails, funnels, subscribers, and member areas. Regular updates and robust infrastructure guarantee a safe and reliable environment.
5. Do I have to pay for website hosting separately?
No, InfluencerSoft includes hosting for your websites. Depending on your plan, you get up to 1,000,000 page views per month for unlimited domain names. Cloudflare integration ensures fast and secure hosting.
6. Who owns the data and content created with InfluencerSoft?
You own all the content and data you create using InfluencerSoft. Your contacts, affiliates, customers, and subscribers belong solely to you. InfluencerSoft does not have permission to use your content or contact your users.
Final Thoughts:
InfluencerSoft is a game-changer for marketers and influencers who want to streamline their marketing processes and boost their online presence. With its intuitive funnel builder, marketing automation capabilities, e-commerce platform, learning management system, and website builder, InfluencerSoft offers a comprehensive solution to meet diverse business needs. The pricing structure, including the lifetime subscription plans, provides excellent value for the features and benefits offered. Whether you're a beginner or an experienced marketer, InfluencerSoft is a must-have tool for driving successful marketing campaigns.
Conclusion:
InfluencerSoft empowers businesses and influencers with an all-in-one solution for building and optimizing sales funnels. Its user-friendly interface, extensive feature set, and competitive pricing make it a valuable asset in the ever-evolving digital marketing landscape. From creating visually appealing funnels to automating marketing processes and managing affiliates, InfluencerSoft equips users with the tools necessary for success. Start leveraging InfluencerSoft today and take your marketing efforts to new heights.
Thanks for reading please like follow and share this post.