Loopin Review: ⚠️ Is Loopin Worth Buying?
Loopin Review: The AI Meeting Assistant Revolutionizing Productivity
Introduction:
In today's fast-paced work environment, meetings play a crucial role in collaboration and decision-making. However, managing and extracting valuable insights from these meetings can be time-consuming and overwhelming. That's where Loopin comes in. Loopin is an innovative AI Meeting Assistant that aims to simplify and streamline your meeting experience. With its powerful features and intuitive interface, it promises to revolutionize the way you conduct and leverage meetings. In this review, we will explore what Loopin has to offer and how it can enhance your productivity.
What is Loopin?
Loopin is the ultimate AI Meeting Assistant that records, transcribes, and summarizes your meetings. It has gained recognition as the #1 Product of the week and has received a stellar 5-star rating on ProductHunt. Designed to be an all-in-one workspace for meetings, Loopin eliminates the need for manual note-taking and ensures that you never miss important details.
What's Inside Loopin?
Loopin offers a comprehensive set of features to enhance your meeting experience. Let's delve into some of its key features:
1. Automatic Meeting Summary:
Loopin's AI Chrome Extension automatically generates well-written meeting notes that capture all the critical decisions, action items, and important updates discussed during your meetings. This eliminates the hassle of manually documenting meeting minutes and allows you to focus on active participation.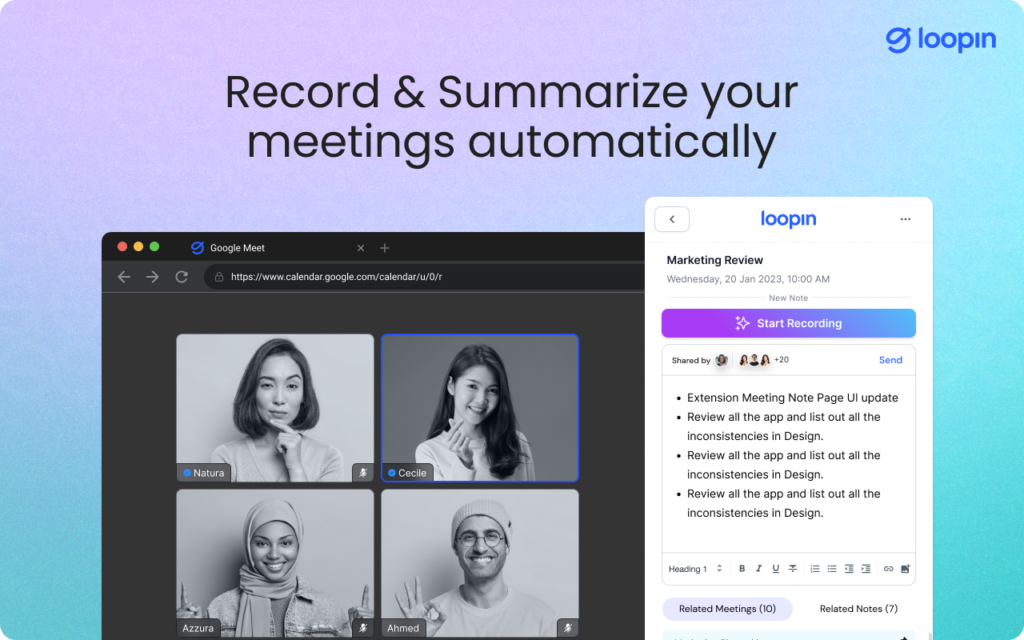 2. Meeting Notes Inbox:
With Loopin's Meeting Notes Inbox, you can conveniently store and manage all your meeting notes in one centralized location. It provides quick access to agendas, previous notes, and pending tasks, ensuring you stay organized and prepared for each meeting.
3. Ask Loopin AI:
If you missed a meeting or need to recall crucial details, LoopinAI is at your service. By simply asking LoopinAI, you can retrieve relevant information from meeting transcripts, ensuring you have the right context at your fingertips.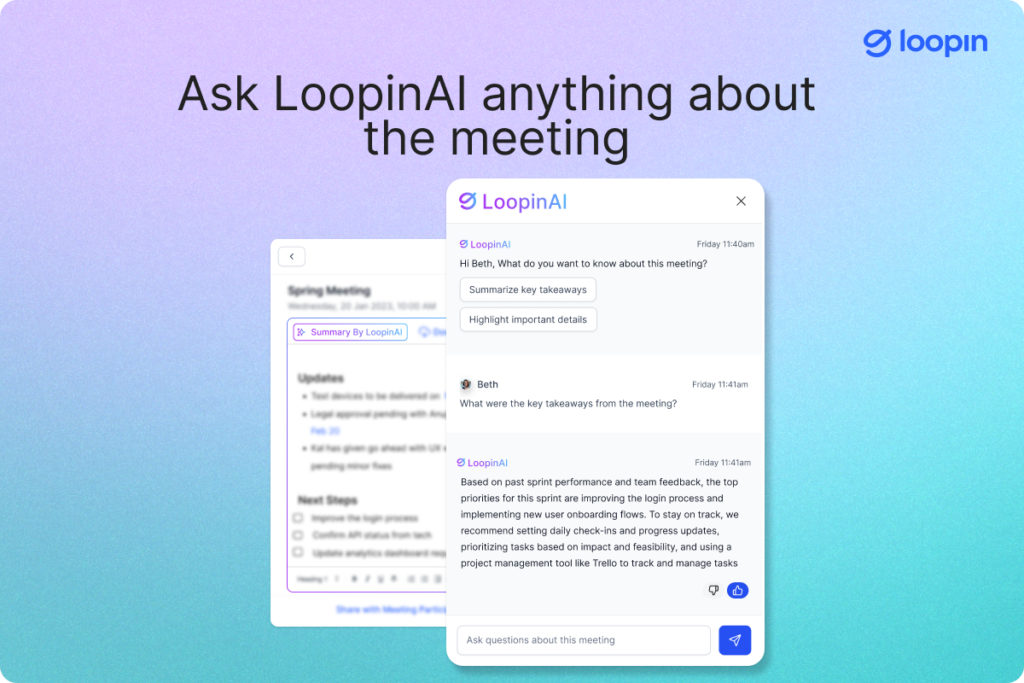 4. Meeting Intelligence:
Loopin's Meeting Intelligence feature automatically connects related meetings and organizes all your meeting notes. This ensures that no important facts or action items slip through the cracks, allowing you to concentrate on the meeting itself while Loopin takes care of the rest.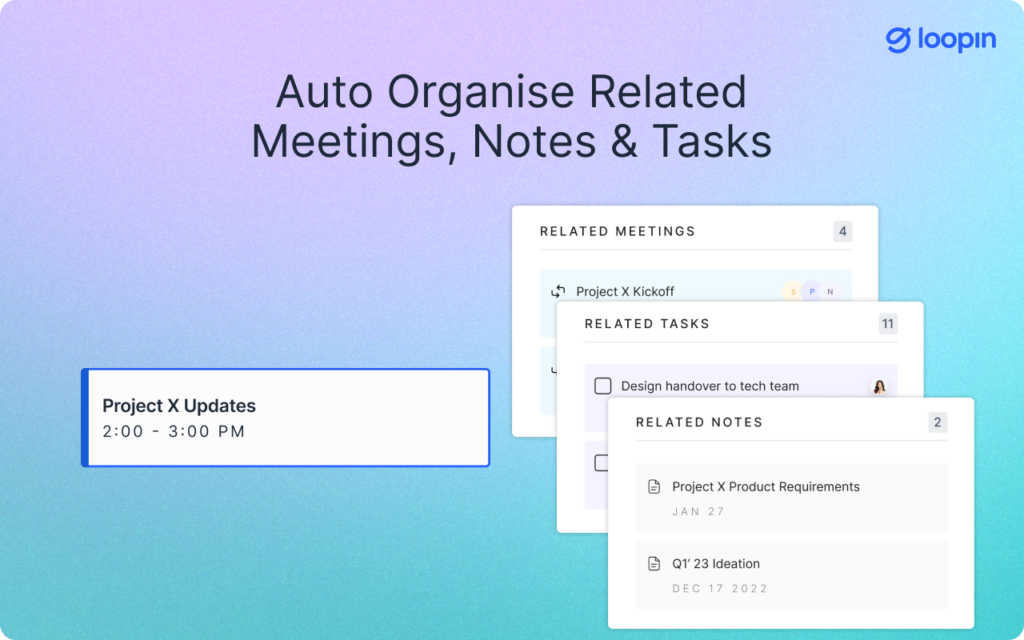 5. Share Notes:
Collaboration is made seamless with Loopin's easy note-sharing capability. You can effortlessly share meeting notes with your team via email, Slack, or any other workspace of your choice. This keeps everyone informed and aligned, fostering productivity and effective teamwork.
6. Get Weekly Insights:
Loopin goes beyond meeting management by providing valuable insights through weekly calendar metrics. You can track your progress, analyze time spent on meetings and projects, and identify areas where productivity can be improved. This data-driven approach empowers you to make informed decisions and optimize your workflow.
Loopin Pricing:
Loopin offers a lifetime deal at an affordable price point.
Loopin offers a range of pricing options to accommodate different user capacities and needs. Here are the available plans:
1. Loopin Pro Plan Lifetime Subscription – 1 User:
– Price: $45 One-Time
– Features:
– 15 AI Meeting Recordings/month
– 50 LoopinAI Chat Credits
– Unlimited Meetings
– Chrome extension
– Unlimited Meeting History
– Collaborative Workspace
– Real-time Collaboration
– Shared and private notes
– Meeting templates
– Calendar features and sync
– Personal task boards
– Task assignment and tracking
– Task time blocking
– Meeting insights and recaps
– Weekly analytics
– Integrates with Zoom, Google Meet, Google Calendar, Slack, Asana, Trello, Notion, and all future integrations
– All future Pro Plan updates
2. Loopin Pro Plan Lifetime Subscription – 10 Users:
– Price: $95 One-Time
– Features: Same as the 1 User plan, but with support for up to 10 users.
3. Loopin Pro Plan Lifetime Subscription – 50 Users:
– Price: $175 One-Time
– Features: Same as the 1 User plan, but with support for up to 50 users.
4. Loopin Pro Plan Lifetime Subscription – 100 Users:
– Price: $265 One-Time
– Features: Same as the 1 User plan, but with support for up to 100 users.
Please note that all plans come with a 30-day Credit Back Guarantee, ensuring your satisfaction with the product. It's important to redeem your unique activation code within 60 days of purchase.
With Loopin's lifetime subscription pricing, you can enjoy the benefits of this AI Meeting Assistant without worrying about recurring monthly or annual fees. Choose the plan that best fits your requirements and unlock the full potential of Loopin to transform your meeting management experience.
Pros & Cons:
As with any tool, Loopin has its advantages and limitations. Let's take a look at some of its pros and cons:
Pros:
– AI-powered meeting summaries save time and effort.
– Seamless integration with Google Meet, Gmail, and Google Calendar enhances user experience.
– Meeting Notes Inbox provides centralized storage and easy access to meeting-related information.
– LoopinAI allows for quick retrieval of meeting details and context.
– Meeting Intelligence feature ensures no important information is overlooked.
– Simple note-sharing functionality facilitates collaboration.
– Weekly insights offer valuable metrics for productivity analysis.
Cons:
– Loopin's functionality is primarily focused on Google ecosystem integration.
– The AI-generated meeting summaries might require manual review for accuracy.
– Some advanced features may require additional configuration or learning.
Frequently Asked Questions:
1. Is a Google account necessary to use Loopin?
Yes, Loopin requires a Google account for seamless integration with Google's suite of productivity tools.
2. Can I activate the Loopin deal multiple times with the same coupon code?
No, each coupon code can only be activated once.
Final Thoughts:
Loopin is a game-changer in the realm of meeting management. Its AI capabilities and user-friendly interface simplify the process of recording, transcribing, and summarizing meetings, freeing up valuable time for more productive tasks. With features like automatic meeting summaries, meeting notes inbox, LoopinAI, and meeting intelligence, Loopin empowers individuals and teams to stay organized, collaborate effectively, and achieve their goals.
Conclusion:
If you're tired of wasting time and effort on manual note-taking and struggling to recall important meeting details, Loopin is the perfect solution for you. Its lifetime deal offers excellent value for money, and its intuitive features make it suitable for professionals across various industries. Say goodbye to unproductive meetings and embrace the power of Loopin to transform your meeting experience.
Thanks for reading please like follow and share this post.